Dr.Mohamad Ali El Husseini met officials of the French Foreign Ministry - Stressed the importance of dialogue in religious and political affairs

Dr.Mohamad Ali El Husseini met officials of the French Foreign Ministry
- Stressed the importance of dialogue in religious and political affairs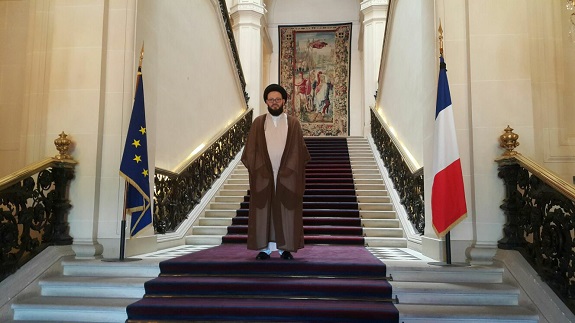 The Secretary-General of the Arab Islamic Council, Dr. Mohamad Ali El Husseini, visited the French Foreign Ministry as part of his European tour, where he met with officials of the Ministry, especially those concerned with religious and political affairs.
El Husseini said that this panic is unjustified because very few of the untouchables and suspects are carrying out these acts, which are rejected, rejected and condemned by our true religion, while the religious leaders in the ministry discussed the phenomenon of Islamophobia in Europe, which reflects the horror of terrorist acts. That millions of Muslims live in the European quarters in peace and safe haven and give back to the countries that embraced them with their high Islamic ethics and their civilizational behavior and their full integration into the social, political and economic life and pointed out that his participation in Paris and Brussels with the imams of the Muslims in Europe march against terrorism is significant that we reject violence and condemn terrorism and terrorists of any religion they belong to, and we are the owners of peace, love and tolerance message.
El Husseini stressed that the adoption of a security solution to this phenomenon alone can not lead to the desired results. He pointed out that the radical treatment of Islamophobia is the production of a moderate European Islamic discourse, which is carried out in cooperation and dialogue between religious officials in the countries concerned and representatives of moderate Islam.
Dr. El Husseini stressed the need to isolate the current political, religious, sectarian and sectarian conflicts in the Middle East from the lives of Muslims in Europe, and this is our will and our constant call for the Arab and Muslim communities everywhere in the world.
El Husseini also discussed with some officials of the Middle East file in the French Foreign Ministry the general situation in the Arab region, especially the situation in Lebanon, Syria, Iraq, Yemen and the Arabian Gulf. He stressed that our Arab countries are subjected to external attacks aimed at destabilizing them and dismantling their structure. Arab crises can only be Arab supported by friends in the West in general and Europe in particular.
El Husseini praised the foreign policy of President Emmanuel Macaron, calling on France to be more open with the Arab countries in general and the Gulf in particular. The relations between the Arabs and France are historic and have always been characterized by friendship, love and mutual respect.